Advanced technologies are driving significant change and creating disruptive innovation in almost every sector.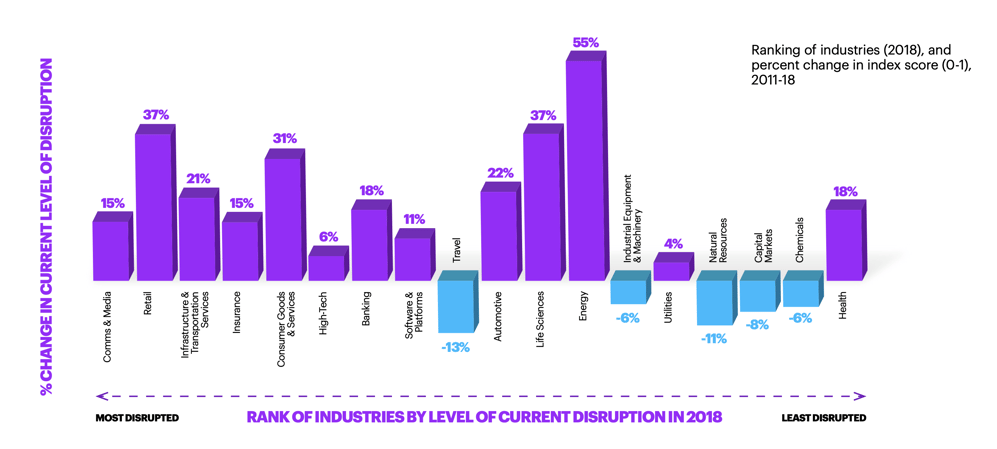 Source: Accenture Research Disruptability Index 2.0
In order to navigate this disruption -- and be positioned to benefit from it -- businesses can cultivate preparedness in four main ways:
1) Awareness and understanding of the changing technologies that have the potential to disrupt their space
2) Encouraging a resilient, innovative organizational culture
3) Exploring organizational agility by embracing new ways of working and making decisions
4) Acquiring and deploying the best people, technology and financial resources to remain competitive[1].
Deloitte completed a cross-sectoral analysis and found that 35% of companies are wholly unprepared for this disruption, and are struggling in all four areas of preparedness1. Not only is preparing for disruptive technology essential for companies to future-proof themselves, but investing in these organizational changes can also improve how a company operates today1.
Facing disruption is not a new phenomena. Several large companies have already faced disruptive technology and either flourished or floundered as a result. Companies such as Kodak, Nokia, Maritime Tel & Tel, for example, all succumbed to innovative disruption despite being dominant leaders in their respective markets.